Nick Carter, PhD
Owner, npc Solar

NABCEP Certified
PV Installer

NYSERDA Approved PV Installer
(# PV4575)

How much will a solar electric system cost?

Well it depends... typically between $5-20,000 net after rebates and tax credits. Financing can be arranged, so that payments can work out cheaper than PG&E and be fixed over the period of the loan, just like a mortgage.

How long will a system last?

There is a 5-year warranty on the whole system installation and typically a 25-year warranty on the power production from the PV panels themselves.

How long will a system take to install?

Typically less than a week, once all the paperwork is completed.

How big is the system?

About 10' x 10' per kilowatt (kW) and residential systems are typically 2-5kW.

Do I need to re-roof?

It's a good idea, if your roof is nearing the end of its life, to re-roof before installing solar, although we know of systems that have been removed at a later date in order to re-roof.

How many kilowatt-hours will the system generate?

About 4 kilowatt-hours (kWh) on average per day for each 1 kW DC installed in the Sonoma county, CA area. So around 120 kWh per month per kW installed.

Are there rebates available?

Yes, California state rebates, federal tax incentives and, for commercial installations only, accelerated depreciation.

Is there any maintenance?

The panels can be kept clean by washing them down once or twice a year, at a time when they are cool, or nature can do the job...

How about installing a system on a business?

This is a great option, as there are extra incentives to install PV on a business compared to a residence.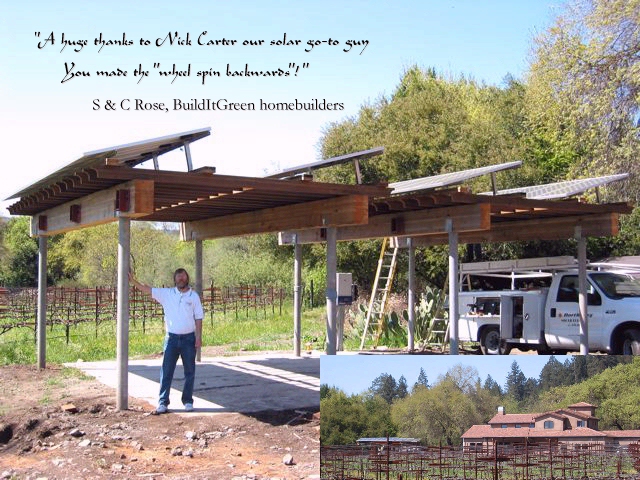 PV Design: npc Solar
PV Installation: North Bay
Solar Electric
Patio Structure: R.T.West
Photo: B. Larsen